Posted by: Jack Santos
My apologies for the biblical allusions in the title, but reading rumors about the
inevitable Apple Tablet brought me back to many years ago during a  dark, secret meeting deep in Apple labs.
I was sent as an emissary for a major Fortune 200 company, and Apple saw me as the techno-weenie to win over in order to keep a fairly lucrative contract for Macintoshes.  So they held no punches, pulled out the big guns, and showed me what then Apple Chief Technologist Dave Nagel felt was the hardware to end all hardware wars.  The crème de la crème, the "it's not a desktop, it's not a laptop, it's not a handheld" answer to every techno geek's dream.
It was the early 90s,  and it was "The Newton".  Not just an apple from any tree, but one from within the Apple tree.  Even then, the prototyped envisioned always-on wireless capability, endless applications at the palm of your hand, ease of use at your fingertip (albeit with a stylus).
OK OK – they didn't get it right, and the Newton is on the dung heap of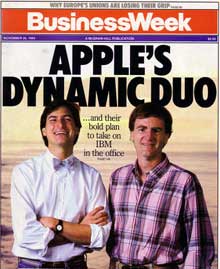 history. Sure, it was attempted during the Jobs hiatus – with Sculley in charge of all things visionary gone wrong.  But one thing you have to give the folks at Apple – they don't give up.  I really think some of the visionary thinking and experimenting that went into the
Newton is what has made the iPod, iPhone, and the impending tablet a commercial success.
A classic "If at first you don't succeed…" story.  They didn't succeed, they did try again, and the rest is history.  Stubbornness and persistence has gone a long way at Apple.  Right, Steve?