posted by: Jack Santos
Some recent news I saw come across my desk has these numbers: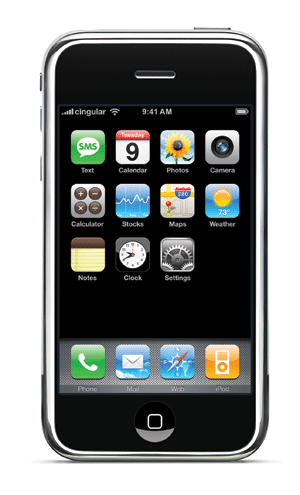 3.79 million iPhones sold in Q1 2009, 21 million
iPhones have been sold to date.
2.22 million Macintosh sold in the same quarter -  a three percent unit decline from the year-ago quarter.
Though industry sales fell, Hewlett-Packard managed to increase its worldwide shipments 2.9 percent to 13 million last quarter ( IDC ). Dell's orders dropped 16.7 percent to 8.65 million units
So in the two years that the iPhone has been out, it is now over 17% of the shipments of dell & hp PCs – and growing (versus falling for pc shipments).
These numbers just add to my conclusion that the iPhone is becoming as large an impact to business as the PC was in 1981…and there is nothing near it in
terms of popularity or feature/function (Android included). 
The only real downside I have heard is the lack of a keyboard for the IM and text inclined; but the user interface is groundbreaking, and
may change the whole usage paradigm.
….and Windows mobile?  not even on the radar.
RIM/Blackberry is shipping twice the number of iPhones per quarter, and growing (so the total handheld market is nearing the total PC market, in terms of 1/4ly units shipped).  They may be the only real competition. 
The Blackberry is the Wintel of the new millennium, while Apple continues to play the role of innovative, cool upstart.
Interesting.  The fight may end up a bit different this time…..